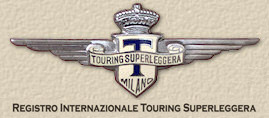 Lamborghini 400 GT 2+2 - Coupé Touring Superleggera
Anni di produzione: 1966-1968 (Carrozzeria Marazzi)
Motore: 12 cilindri a V di 60°
Cilindrata: 3929 cc
Potenza: 320 Hp a 6500 giri/min
N° posti: 2+2
Fu l'ultima vettura ad essere costruita con il sistema Superleggera. Evoluzione della 350 GT, con l'adozione di 2 posti posteriori. La produzione di questa vettura iniziò a metà del 1966 presso gli stabilimenti Touring di Nova Milanese, ma, dopo la chiusura della Storica Carrozzeria alla fine del 1966, la commessa di oltre 270 esemplari fu completata presso la Carrozzeria Marazzi di Caronno Pertusella, dove vennero assunti numerosi dei valenti tecnici Touring, fra i quali Federico Formenti. Accanto alla versione GT 400 2+2 era anche disponibile la versione GT 400 a due soli posti. Ne furono costruiti 250 esemplari nella versione 2+2 e 20 nella versione a due soli posti.
Production years: 1966-1968 (Carrozzeria Marazzi)
Engine: 60-degree V12
Capacity: 3929 cc
Power: 320 HP at 6500 rpm
Seats: 2+2
Last car built with the Superleggera system, the Lamborghini 400 GT is the evolution of the 350 GT, with two extra back seats. Its production began in Nova Milanese around the middle of 1966 and, when Touring was forced to shut down at the end of the year, the last 270 cars were manufactured by Carrozzeria Marazzi in Caronno Pertusella, which hired many of Touring's skilled engineers, including Federico Formenti. In addition to the GT 400 2+2-seater, a GT 400 two-seater was also built. In the end, a total of 250 2+2-seaters and 20 two-seaters were produced.